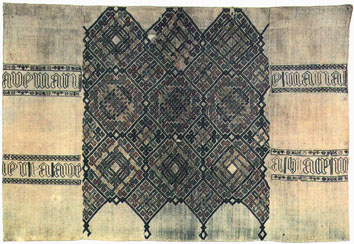 Icelandic Altar Hanging
Text and charts by Joyce Miller
This embroidery is pictured in the book Traditional Icelandic Embroidery, by Elsa E. Gudjonsson, Icelandic Review, Reykjavik, Iceland, 1982, Page 24, figure 16. The caption states:
"Altar frontal, unknown provenance. Late mediaeval. Pattern darning, skakkaglit, and long-armed cross stitch, gamli krosssaumurinn, with wool on linen tabby. Size about 87.5 x 128.5 cm. Inv. No. 2371."
Click here for a very large picture of the entire altar frontal.
---
The left and right panels are done in long-armed cross stitch, and I did not chart those. The central knotwork panel is done entirely in pattern darning (a relative of brick stitch), with vertical stitches covering either 1, 3 or 5 threads. Click here for a stitching diagram.

After I charted the pattern of the entire center panel, I estimated the thread count of the ground fabric by dividing the number of total stitches across and down by the stated dimensions of the embroidery. This gave me figures of 17.75 tpi across, and 16.12 tpi down.

Having no pressing personal need for an altar frontal, I decided to re-work the embroidery as a seat cushion, and I used a ground fabric of 18 tpi. I also used DMC Medici Wool, in blue 8410, green 8408, red 8126, and yellow 8324.
---
Charted Patterns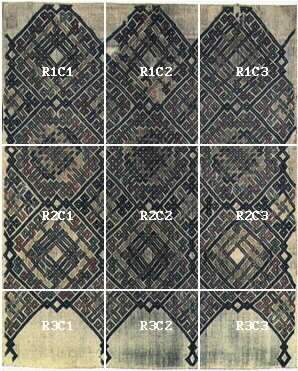 I charted the overall pattern, and split it up into 9 sections. Each section fits onto an 8-1/2" x 11" sheet of paper. When assembling the overall pattern, please note that the 9 sections overlap slightly. The nine files are in PICT format.

Row 1, Column 1,
Row 1, Column 2,
Row 1, Column 3,
Row 2, Column 1,
Row 2, Column 2,
Row 2, Column 3,
Row 3, Column 1,
Row 3, Column 2,
Row 3, Column 3.

---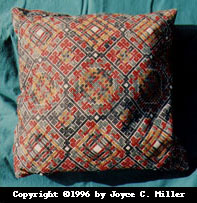 And here is my finished cushion. After I completed the embroidery, I took a piece of 100% cotton percale the same size as the embroidery ground, and basted it to the back, to protect the embroidery. Then I took a piece of thick wool, cut to fit the embroidery (minus the unembroidered edges), and basted that on, in order to even out the bumpiness of the embroidery. Then I took a piece of red linen to serve as the back of the pillow, and handstitched it to the front of the pillow on three sides, effectively making a pillowcase. I made a separate pillow out of cotton muslin stuffed with a carded wool batt, inserted it into the embroidered pillowcase, and sewed the remaining edge shut. Total time stitching: 210 hours.



---
You can e-mail me at . msmead@doctorbeer.com

Back to:
Joyce's Embroidery Page
Joyce's Personal Page